Roll Up
Cannabis Dispensary Shutters
Looking for brand-new, durable, and high-quality cannabis dispensary security shutters? Shutter Pros offers just that. Choose from a range of colours, styles, materials, and installation options and get the roller shutters your cannabis dispensary needs.
providing roll-up shutter solutions in Canada
Shutter Pros Offer Rolling Cannabis Security Shutter Installation
About Cannabis Dispensary Security Shutters
The cannabis industry is relatively new in Toronto. Like any new business, it's crucial to stay ahead of the curve. Security shutters help protect a well-maintained marijuana dispensary, keeping the inventory secure.
Shutter Pro's high-end dispensary security shutters can provide the safety your business needs. Lock your shutter doors at night, customize them any way you like, and make them your dispensary keepers.
Why Choose Us for Your Cannabis Dispensary Security Shutter Installation?
Shutter Pros experts have years of experience in installing security shutter systems. Our customized solutions make sure your product fits your store business space perfectly.
Whether your dispensary is located inside a shopping mall, a residential neighbourhood, or in a medical office complex, the security shutters from Shutter Pros can match your architectural needs.
And if you don't know which shutter type to use, our skilled professionals are always there to give you a hand.
We approach each project with the same level of care and attention, and we will do the same for your business.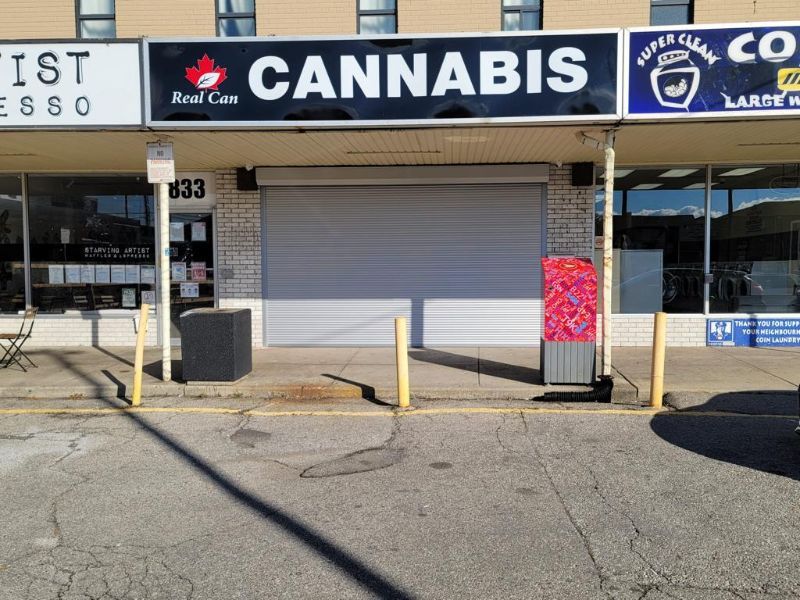 "Excellent company, quality product. Customer service was great and all my questions were answered. Great price for quality custom shutters."
"Great team! Dan was his team did a great job at at replacing our old garage door with a roll up shutter garage door in Markham."
"Good company to contact if you need any roll up shutter garage work done! The estimator was very knowledgeable and provided us with all the information."
Our Security Shutters Have a Broad Appeal
When getting security shutters, you want the freedom to choose the solution that fits your dispensary best. Choose from white, beige, grey, blue, black, brown, or silver shutters to match your dispensary design. As for dimensional preferences, we can fulfil any commercial shutter installation you may need.
Importance of Durable Cannabis Dispensary Security Shutters
Cannabis storage is the utmost priority for most dispensaries. Extreme weather and theft protection are important reasons why you may want to protect your premises. If you store cannabis products, you'll want to safeguard your inventory in the most effective way possible, and investing in durable security shutters is the way to go.
The shutters can stay wide open during working hours and remain safely shut during off-hours or when your dispensary is closed.
Other benefits provided by customized security shutters include:
A fashionable appearance that allows your business to blend with the surrounding commercial locations
Durable material
Cost-efficient solution
A lightweight structure that's easy to install and maneuver
Easy to display your brand logo or ads on the shutters
Low-maintenance requirements for years to come
With Shutter Pros, you get all this and more. In combination with affordable pricing, sturdy design, and fast service, we're your leading security shutter provider in the Greater Toronto area.
Roll Up Shutters. Reliable. Durable. Stylish.
Securing your facility with our sturdy product provides an additional barrier against thieves and trespassers. You'll gain peace of mind knowing your valuable assets are safe behind closed doors.
We will provide you with a written estimate and project timeline.
Professional roll up shutter installation.
The Shutter Pros Your Trusted Cannabis Dispensary Security Shutters Experts
Shutter Pros provides a range of design options for cannabis dispensary shutters, including colour, size, operating mechanisms, installation methods, and materials. To maximize your investment and find the best choice for your business, you can contact one of our agents via phone or live chat.